PNL had to cancel their show at Coachella 2017
One of the PNL Member Visa issue prevents the rappers to perform at the Colorado Desert Festival Coachella. The famous french duo's Set was supposed to be held on both weekends (April 16th and 23rd).
Tarik and Nabil Andrieu, who grew up in the parisian french projects from immigrant parents, announced the cancellation on Twitter. They hope Tarik's visa will be granted in time for the second date.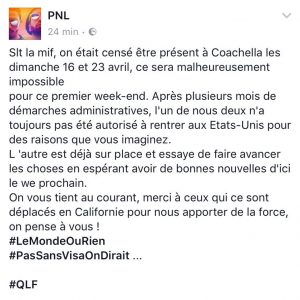 PNL Booking Agent FME-BOOKING is accepting selected dates only for concerts, clubs and festivals.
Contact us at
info@fme-booking.com
for further info.