Migos is here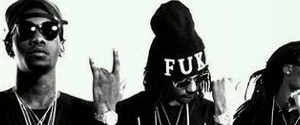 Friday, 2019 February 8, the Migos unveiled their new single which is none other than a campaign for a known brand of American Soda. True hymn to ego, success and perseverance, the Migos give us back the desire.

Looking forward to the third installment of the saga of Album CULTURE, the fans cannot wait any more and claim new constantly. So much announced in December on his birthday, it seems that the Offset album has upset the program of the Atlanta trio. Finally scheduled for February 22, Quavo has hinted a few days ago that Offset's album will be followed by the famous CULTURE III.
The American Mountain Dew soda brand shares the same values as the Migos, so they decide to collaborate with the trio to create their advertising campaign. In the commercial, the trio appears on the screen with their recognizable swag of all on gold tricycles rapping with confidence and styles their bars.
The brand has not only attracted the services of the legendary trio, it has also brought together top athletes like NBA basketball superstar and sixers's player Joël Embiid, star skaters Sean Malto and Maria Duran as well as the professional UFC boxer Holly Holm.
Migos : contact us right now to book the best artists.